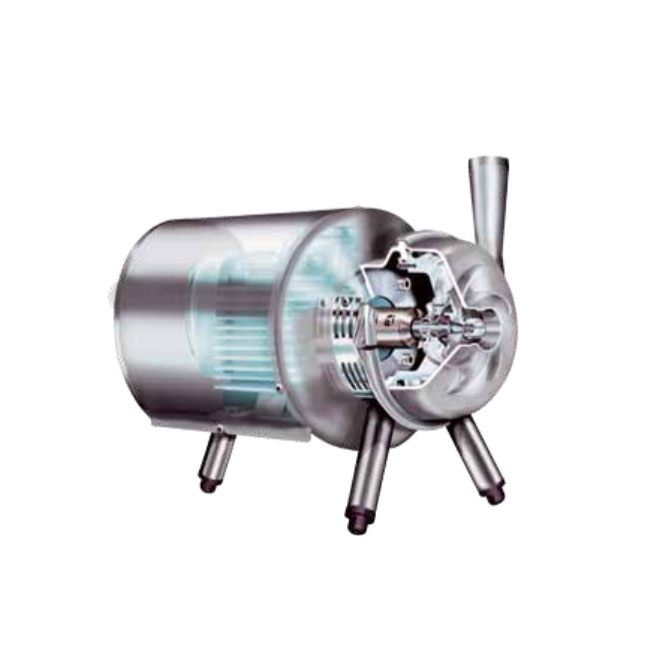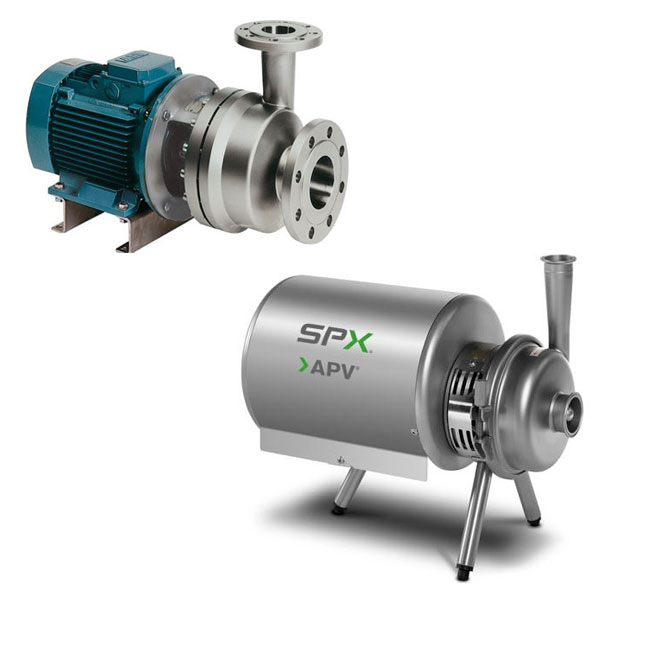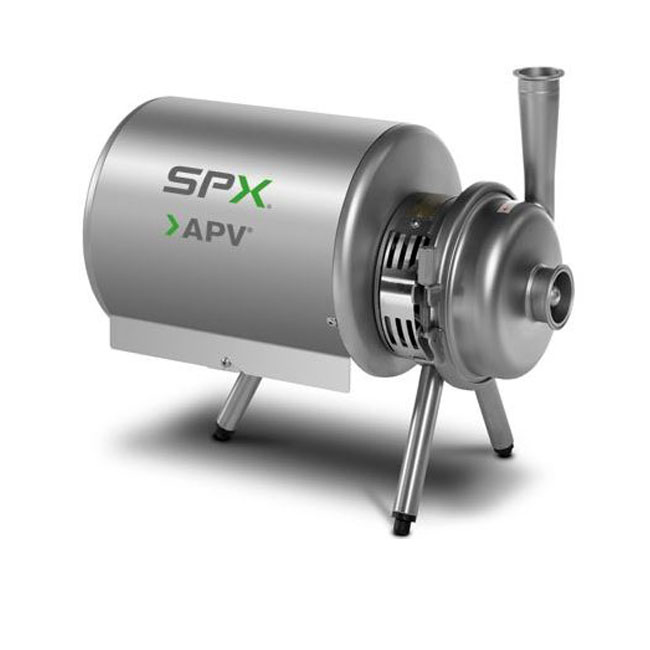 SPX APV W+
Applying the SPX APV centrifugal pump W+ Range
The SPX APV centrifugal pump W+ is characterized by problem free operation and a long life cycle. The pump design is particularly robust with a new hard wearing shaft seal and an extension frame of stainless steel as standard.
Operating reliability has been thoroughly tested. Every pump is tested individually in a computer-controlled test bench. A test certificate is provided with each pump. All W+ pumps are designed for system pressures up to 14, 18 or 25 bar – as standard.
Complete product range
The SPX APV centrifugal pump W+ range consists of 17 standard models with pressure and flow capacities up to 15 bar (50 Hz) and up to 800 m³/h (50 Hz). There are a number of special versions, which may be adapted specifically to customer requirements. As the W+ pumps are modular, customized versions can be provided to undertake specific pumping duties. The name of the pump refers to its best efficiency point (BEP). W+ 22/20 for example, attains its BEP when the differential pressure is 22 mWc and the flow capacity 20 m³/h (50 Hz). All pumps operate at 50 Hz and 60 Hz.
Motors
To meet global demand, W+ pumps are supplied with either IEC or NEMA standard motors.
W+ multistage pump
The W+ 140/50 offers three special features:
Provides pressures up to 15 bar
Can be used in processes with system pressures up to 60 bar
Ensures optimum hygienic standards
Unlike other multistage pumps, the W+ is CIP friendly. It has open impellers and semi-open impeller vanes eliminating any hiding place for bacteria. The W+ multistage pump is equipped with heavy duty bearing bracket that absorbs all radial and axial forces present in pumps of this kind. Therefore the W+140/50 can use standard motors of any make.
Whp+
The Whp+ is a high-pressure model of the W+ range. These pumps are designed to withstand system pressures up to 870psi (60 bar) - such as those in certain reverse osmosis systems. The Whp+ pump's sturdy construction increases stability and dampens vibrations.
Wa+
Unfortunately environmental requirements are getting stricter and stricter. But today, aseptic production is already essential to certain processes - including the manufacture of long life food and pharmaceutical products. The Wa+ pump is the perfect solution. All seals, including the shaft seal, are designed as double seals.
Double mechanical shaft seals fitted for sterile flushing
Double O-ring sealing of pump housing fitted for sterile flushing
Special aseptic fittings fitted for sterile flushing
| Artikelnr. | Omschrijving | Voorraad |
| --- | --- | --- |
| 34151001AP | Centrifugaal pomp W+ W+ 10/8 0.75kW 3000 RPM AISI 316L Volgens spec. | |
| Artikelnr. | Omschrijving | Maatvoering | Elastomeer | Voorraad |
| --- | --- | --- | --- | --- |
| 34636007AP | Centrifugaal pomp W+/WS+ Afdicht set EPDM SIC/Carbon Shaft size Ø25 | | | |
| 34636130AP | Centrifugaal pomp W+/WS+ Afdicht set W70/40 EPDM SIC/SIC | | | |
| 34604105AP | Service kit dubbele mech. seal Centrifugaal pomp W+/WA+/WI+ 30/80 SiC/C/FPM (Viton) | | | |
| APL880876 | Centrifugaal pomp W+ Afdicht set W+50/8 EPDM, sintered SIC/SIC L880876 | | | |
| 34613013AP | Service kit enkele mechanical seal Centrifugaal pomp W+/WA+ 65/350 SiC/SiC/EPDM | | | |
| 34613105AP | Service kit dubbele mech. seal Centrifugaal pomp W+/WA+/WI+ 30/80 SiC/SiC/EPDM | | | |
| 34604114AP | Service kit dubbele mech. seal Centrifugaal pomp W+/WA+/WI+ 70/40 SiC/C/FPM (Viton) | | | |
| 34636217AP | Centrifugaal pomp W+/WS+ Afdicht set W55/35 Viton SIC/Carbon | | | |
| 34636901AP | Spare part for W+ 22/20 APV Pompmhuis met FG flens inlet DN65 outlet DN50 | | | |
| 34614112AP | Service kit dubbele mech. seal Centrifugaalpomp W+/WA+/WI+ 60/110 SiC/C/EPDM | | | |
| 34636330AP | Centrifugaal pomp W+/WS+ Afdicht set W70/40 Viton SIC/SIC | | | |
| 34636008AP | Centrifugaal pomp W+/WS+ Afdicht set W30/120 EPDM SIC/Carbon | | | |